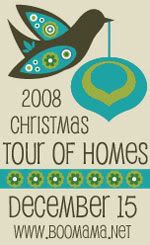 Welcome to our home! I've never done this tour before, but I saw it on my friend Lauren's blog and thought it'd be fun to join. Come on in. On our front door is this beautiful teardrop that I purchased at one of my favorite home decor stores. I had a similar one for fall, and I just had to have a Christmas one.
Isn't this whimsical tree just oh so cute? I found this at Ms. Punkins, a new little store in Olive Branch that has great home decor and gift ideas. I love polka dots and fun, whimsical decor.
This picture frame I made myself. After seeing similar ones in shops, I tapped into my creative side to manufacture several of these for Christmas gifts. My little man makes this pic! The ones I gave as gifts had Scripture instead of photos.
We decided to go with bright, mixed colors on our tree and centerpiece this year. I looked high and low for a new, sophisticated centerpiece that I liked...and I never found one. So we got this fun, crazy one. And it fits our zany family!
With four kids ages five and under, life is bright and lively. Our mantel with its bright colors reflects that too! I can't believe we have so many stockings. I remember when it was just two.
Isn't our tree gigantic? It makes Abby look tiny! We had so much fun decorating this tree....everyone except our little man who slept the entire time.
Here's the nativity that my mom bought for us a couple of years ago. I love its simplicity. The girls love to play with it and bring the wise men to baby Jesus. They also love to hide baby Jesus for some reason!
Our countdown calendar....Abby is the only one who notices this, but she is 100% committed to counting down the days until Christmas. She never misses a day.